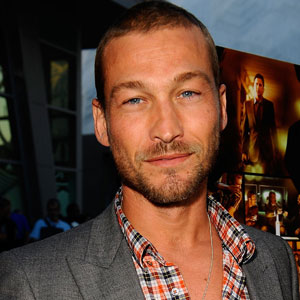 I was saddened to hear about the death of Andy Whitfield. Hadn't he announced he was cancer-free? How could things have changed so quickly?
You're right. The
Spartacus
star, who
died Sunday
of non-Hodgkins lymphoma at age 39, had apparently thought he'd beaten his cancer only last year...
And he hadn't even fought the disease for all that long.
Here are the facts: Whitfield was diagnosed with the disease in March 2010. The lymphoma was discovered during a routine checkup and was thought to be treatable. By May of last year, tests on Whitfield indicated no cancer in the actor's system, and a few weeks later, he completed his treatment. In fact, the actor was feeling so good that he
gave an interview to Deadline Hollywood
, saying, "I'm raring to go."
Things seemed to be equally OK in July. During Comic-Con, Whitfield's former
Spartacus
producer told the crowd that the actor was doing well and even mulling collaboration on a fresh project, "a project in which he wouldn't have to take his clothes off," according to the
Orlando Sentinel
, who quoted producer Steven S. DeKnight.
Sadly, the enthusiasm was premature.
Oncologists tell me that this particular kind of cancer is infamous for simply disappearing off the radar, only to return with even more strength and virulence.
"What happens is that there are just a few cells left," explains Dr. Bruce Cheson, head of hematology at Georgetown University Hospital and chairman of the Lymphoma Research Foundation's scientific advisory board. "Scanners have a limit of resolution below which those cells can't be picked up." For example, a PET scan has about a 90-ish percent "negative predictive value." That means that, 5 or 10 percent of the time, "the scan misses it, because the cancer is too small to be picked up."
The cells that do remain under the radar are often very resistant to treatment, says Dr. Elena Gitelson, medical oncologist with the Kimmel Cancer Center at Thomas Jefferson University.
"About 99.9 percent of the cancer could be dead, but the rest is dormant," she explains. "Those remaining cells will have acquired new genetic abnormalities and become more aggressive, and grow even faster."
We can't be sure that this is what happened with Whitfield, but it's not unlikely.
If you want to know more about non-Hodgkins lymphoma, including how you can
support people fighting the disease
, there's no better time than now:
September is Blood Cancer Awareness Month