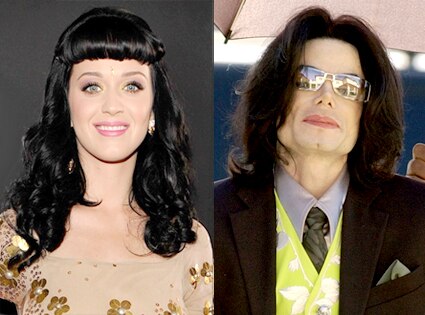 Is the "Teenage Dream" singer "Katy Perry" really on par with the King of Pop when it comes to thrilling
chart success?
Well, no need for her to beat it because the answer is... TRUE!!!
With her latest single, "Last Friday Night (T.G.I.F.)" skyrocketing to the top of
Billboard
's pop charts this week, the 23-year-old Perry has officially matched Jackson, becoming only the second artist to have five No. 1 singles off the same album since the inception of the magazine's countdown five decades ago.
The songs are all of her sophomore release,
Teenage Dream
: "California Gurls" (featuring
Snoop Dogg
), "Teenage Dream," "Firework," "E.T." (featuring
Kanye West
) and "Last Friday Night."
With "Waking Up in Vegas," off her 2009 debut
One of the Boys
, also topping the charts, Perry is only the second artist ever to notch six consecutive No. 1 singles.
Perhaps she ought to take part in that
M.J. tribute concert
his family is organizing for Oct. 8 in Wales?
That's if her busy schedule could even allow it. Katy's currently crisscrossing the country on her sold-out
California Dreams World tour
, which stops tonight in Kansas City, Mo. It will continue through the fall (with a detour in late September to South America and the U.K. in October), before wrapping up Nov. 22 in Los Angeles.