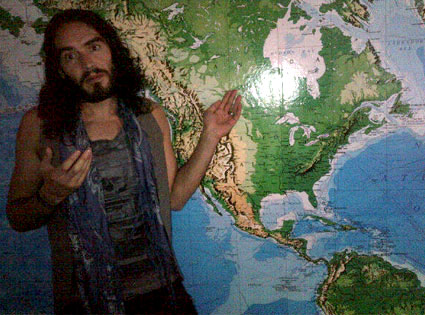 It's not like it hadn't
happened before
. So when word broke over the weekend—on
Russell Brand
's own Twitter feed—that the comic had been
denied entry by Canadian customs officials
and thus would be unable to perform in the country Saturday night, it seemed perfectly believable.
He even went so far as to chronicle his plight of injustice through a series of tweets, asking, "How do you manipulate customs officials?" and pleading to no one in particular to "let me in!"
He ended his rant by announcing the show had been postponed. "I'm sorry," he wrote. "I can't enter Canada. We must abolish the borders between our nations AND our minds."
Seems pretty cut-and-dry: He wasn't allowed into Canada. But is that the real story? Did customs officials really prevent him from entering the country? Someone call the Mounties, because this rumor is…
FALSE : Despite what Russell's tweets would have fans believe, the cancellation of his show at Casino Rama had absolutely nothing to do with customs officials—in fact, Russell never even left Los Angeles!
That cheeky Brit!

"Casino Rama regrets to announce that this evening's Russell Brand show has been postponed due to a travel issue being experienced by the artist," the Ontario-located casino said in a statement Saturday.
And that travel issue was a faulty plane, not an international rap sheet (not this time, anyway).