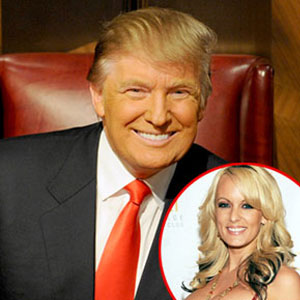 According to rooted-in-scandal TheDirty.com, Trump stepped out on knockout wife
Melania Trump
—while she was pregnant with their son
Barron
—with porn star
Stormy Daniels
.
Ugh, he is
so
fired. Or is he?
Hang onto your trust funds, heirs, because this rumor is...
So far this rumor is NOT SO TRUE :
Both Trump
and
Daniels are vehemently denying the story about the two of them hooking up after Trump had played in a golfing event and then meeting up multiple times afterward. Daniels herself told E! News that she's not commenting, but the story is "bulls--t."
The totally untrue and ridiculous story written by Life & Style Magazine about Donald J. Trump emanated from a sleazy and disgusting website which, upon strong notification, fully withdrew its posting," read a statement to E! News from Michael Cohen, executive VP and special counsel to Trump.

"Correctly, upon seeing that the article was false, all other publications likewise withdrew and did not write their article. Life & Style magazine, however, informed our attorneys that 'it is too late...we have already gone to print and distribution,' even though, in fact, they were properly informed prior to going to print.

The Trump Organization and Donald J. Trump will be bringing a lawsuit against the magazine.
"At the same time," Cohen concluded, "Mr. Trump and the Trump Organization would like to thank and commend Stormy Daniels and her attorneys for their honesty and swift actions."
A-plus for the XXX star!