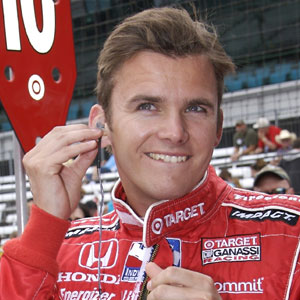 Dan Wheldon
, two-time Indianapolis 500 winner, died this weekend after a 15-car accident during the Las Vegas Indy 300 at the Las Vegas Motor Speedway.
Wheldon's race car
was sponsored by William Rast
,
Justin Timberlake
's clothing line.
"Dan Wheldon. Indy Car Champion. 1978-2011,"
reads a note
on the company's Twitter, which
linked to a photo
of the driver following one of his Indy 500 wins.
The race was canceled after the horrific crash and Wheldon, 33, was airlifted to a nearby hospital, where he later died. His fellow racers decided to race for five laps in his honor.
"IndyCar is very sad to announce that Dan Wheldon has passed away from unsurvivable injuries," IndyCar CEO Randy Bernard said in a statement. "Our thoughts and prayers are with his family today."
Earlier today, Wheldon tweeted, "Big day today, $5,000,000.00 at stake!!! Heading to the track."
The British driver was an Indy Racing fan favorite and won the Indianapolis 500 in 2005 and again this past May.

Wheldon is survived by his wife Susie Behm and their two children, Sebastian and Oliver.