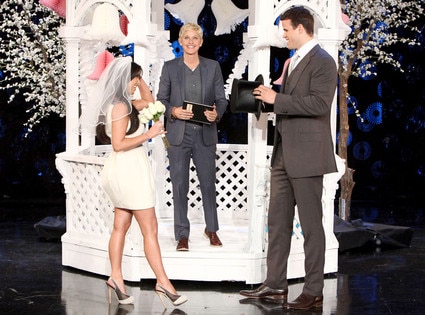 After a little more than a month of being married,
Kim Kardashian
and
Kris Humphries
have started doing their tour of talk-show interviews as a couple.
The duo hit up
The Tonight Show
with
Jay Leno
(airing tonight) and it turns out, Humphries is pretty funny!
Kris tells his version of how he met his wife
- saying a teammate from the New Jersey Nets had told him that Kim wanted to "holler" at him. So, he was psyched about it, right?
Not so much. He was actually a little apprehensive. Why, you ask?
"I didn't know her very well, I didn't know much about her, " the NBA star says. "I thought she wasn't gonna be as nice as she is and down to earth, and when I got to know her, you know, I fell in love with her."
Awww.
Kim shares that if she could do one thing differently about her wedding, she'd elope