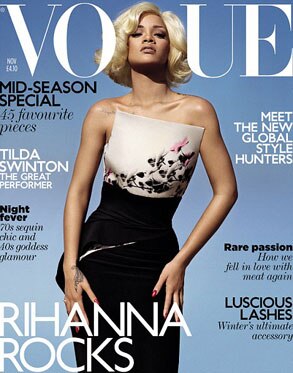 The Barbadian beauty and fashion chameleon donned a curve-hugging Armani gown with a dramatic architectural neckline, simple makeup and a sexy curly wig for the glossy's November issue.
"I don't ever want to be a theme because then it belongs to someone, and that's not right," the 23-year-old told the mag about her evolving hairstyles. "I want to cultivate something that's part of my personal swagger—whatever my mojo tells me, that's what I'm going to do."

As for last week's topless shoot, Rihanna didn't address it directly, of course, but she did have an explanation when the mag asked about her controversial music videos, like "S&M" and "Man Down."
"That's not me. That's a part I play. You know, like it's a piece of art, with all these toys and textures to play with," she said matter of factly.

So what do you think of the singer's blonde wig and glam cover? Weigh in below!