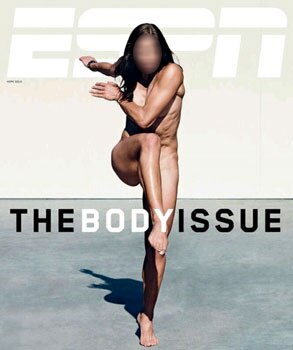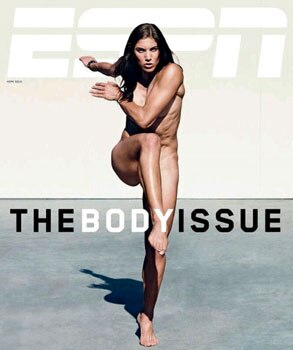 Holy moly!
If any of those body parts were just a
smidgen
off, we'd need some censor stars up in this post.
One of
Dancing With the Stars'
ballroom contenders graced the cover of
ESPN
magazine's Body Issue with her barenaked body.
It's international soccer star and Maksim Chmerkovskiy's partner Hope Solo.
The Olympic gold medalist discussed her sex appeal (which she insists is nonexistent) by saying, "I still don't buy the idea that I'm a sex symbol.

"Sure, I've had marriage proposals, invitations to military balls and prom offers, but my entire purpose is trying to be the best, and if that exudes beauty too...It means the image of the typical female body type is finally evolving."
OK, that's all fine and dandy, but what is causing the 5-foot-9, 150-pound athlete to be in such denial about her hot bod?

"Growing up, I felt insecure about my build," says the 30-year-old. "Guys would say, 'Look at those muscles! You can kick my ass!' I didn't feel feminine. But that's changed in the last four years."