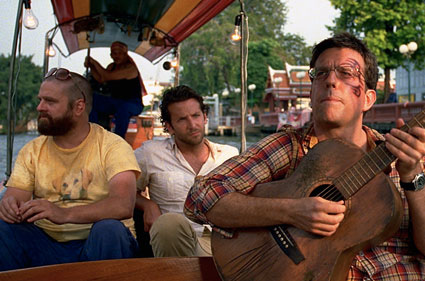 A California man is suing the makers of
The Hangover Part II,
accusing them of stealing his life story to use as the basis for the blockbuster sequel's plot.
Per the copyright infringement suit filed in U.S. District Court in the Central District of California, a copy of which was obtained by the
Hollywood Reporter
, Michael Alan Rubin asserts the studio, director
Todd Phillips
, and the writers of
The Hangover Part II
lifted elements from his script,
Mickey and Kirin
, which follows his misadventures meeting a Japanese woman named Tamayo Otsuki in Japan in 2007.
According to the complaint, the two fell in love, tied the knot in a traditional Japanese ceremony, then honeymooned in Thailand and India only to wind up coming undone after Otsuki, unhappy with Rubin's financial situation, refused to share a hotel room with her new spouse.
Rubin subsequently hightailed it to Indian vacation paradise Goa, where he landed some acting gigs and entered into talks with a Bollywood producer about making a movie based on his (we presume short-lived) marriage. He later registered the treatment he wrote with the Writers Guild of America.
What this guy's marital misfortunes have to do with Ed Helms' character Stu losing his brother-in-law after a night of partying in Bangkok, let alone a bachelor party, is beyond us.
Rubin's representing himself in the suit, which most lawyers will tell you is a bad sign for the plaintiff. He is seeking unspecified compensatory and punitive damages for copyright infringement, misappropriation of his publicity rights and defamation.

But as Rubin states in his suit: "The plot and theme of 'Hangover 2' is copied from the treatment Mickey and Kirin' and also from the private real life incident of the plaintiff, because the protagonist in 'Hangover 2' travels from the United States to an Asian country to marry his Asian girlfriend."