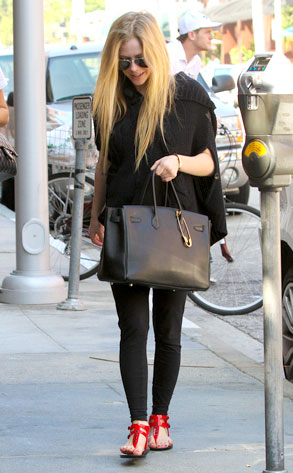 Pregnant celebs have been known to try to keep their mommyhood-to-be on the down low by using oversize designer bags to hide their baby bumps.
Does this all mean that the rocker chick is preggers with her and boyfriend
Brody Jenner
's baby?
The couple has, after all, been together for about 19 months.
Well, hold on to your rattles, rockers, 'cause this rumor is... FALSE!!!
Ms. Lavigne is no mommy-to-be. "She is not pregnant," her rep tells me.
While not married, Lavigne fits quite nicely into her hunky beau's family. She was on Jenner's arm at his stepsister
Kim Kardashian
's wedding to
Kris Humphries
last month