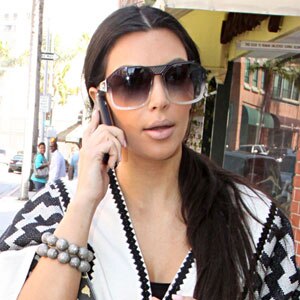 What's better than somebody finding and returning your lost cell phone? If the person tracking you down is
Kim Kardashian
, of course!
"I just found someone's cell phone in a taxi!" the
newly wedded
E! star
tweeted
this morning. "I hope I can get a hold of them and give it back to them!"
Good 1 Kim...a minute later you probably had a million people say it was there's lol. But wait she's not as dumb as she looks...
Sure enough, thanks to some quick thinking on Kim's part, she managed to locate its rightful owner.
"I just called the last # they dialed and found them!" she
wrote
a little while later. "Thank heaven! I would die without my phone!"
Of course, she couldn't help but contemplate the obvious.
"Should I go through their pictures on this phone?" Kim
asked
her loyal
Twitter
followers. "JUST KIDDING! But u know some of u would snoop too!!!"
"U should take a picture or video of urself so they can save it,"
suggested
one fan.