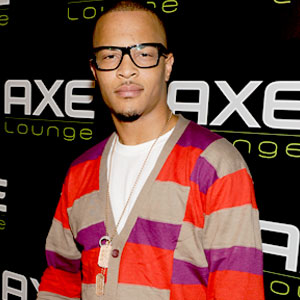 T.I.
is a free man.
The rapper (real name:
Clifford Harris Jr.
) was released early this morning from an Atlanta halfway house—his home away from home for the past two weeks after spending nearly a year in federal prison on a drug-related parole violation—federal Bureau of Prisons spokesman Chris Burke confirms to E! News.
So where's he headed? And more importantly, is he taking
the party bus
?
Unlike his infamous exit from his federal lockup last month, which saw him
chauffeured
to the Dismas Charities Atlanta halfway house in a pimped-out bus, T.I. made a much lower key exit today.
The rapper has big plans. First, he and wife
Tiny
will be going to his mother's home in Atlanta for a private welcome-home celebration. "We just want to be together as a family tonight," says
Diane Pope
, Tiny's mom and T.I.'s mother-in-law.
But on Friday night in Atlanta he is planning a more lavish party. Then he will team up with New York Knick
Amar'e Stoudemire
on Sunday to host the inaugural A King of Oneself brunch, which will celebrate men's fashion and hip-hop on Oct. 2.
Sean "Diddy" Combs
is expected to provide the alcohol for the brunch.
Guests there will be treated to a screening of a documentary about T.I., called
Salute the King
, which was made by fans all over the world who submitted videos for the movie.
He's also recorded a verse for a single called "Magic," which has just been released.
T.I., 31, had spent the last two weeks at the Atlanta facility to complete his 11-month prison sentence. He was found in violation of his parole in his federal gun case after getting
pulled over
in Los Angeles last year for drug possession. T.I.'s charge was later dropped, but then he later failed a drug test handed administered by his parole officer.
The rapper, who has a VH1
reality show
coming out in December, will remain on probation for one year and must undergo drug and alcohol testing. He is also not permitted to drive and cannot travel unless it is for work.