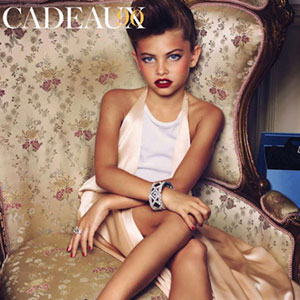 There's a 10-year-old model appearing in magazines in sexy poses. Why is no one doing anything about this?
Indeed, a kid named
Thylane Blondeau
is
making quite a stir
, pirouetting in high-fash spreads
sans pantalons
and, in certain photos,
without a shirt
. Blondeau kicks out her hips—such as the they are—sports miniature high-heels and pouts sexily, evoking a liaison between
Brooke Shields
and
Denise Richards
. (Just humor me here.)
But should something be "done," as you put it?